After creating the YouTube Channel the next task is How To Get More Subscribers On YouTube Channel which is really hard to archived in short time of launch. Now just imagine how did you feel if I will give you the source to get as many as you want the subscribers on YouTube?
Did you know: How To Get More Views On YouTube
For a second it's seem as the fake but reality is that it's not fake because my job is not for provide the sensations, my task is to share the knowledge I have earned from the experiences.
Info:
Did you know when you have 100,000 subscribers YouTube will give you the appreciation letter along with the premium play button.
On other hand if you want to allocate the Custom Username as the channel name on YouTube you need at least 100 of subscribers. (Claim a custom URL for YouTube).
The last feature you must know is that you can take direct advert or paid content from other advertisers, which is really beneficial then adsense. (Enable paid content).
How To Get More Subscribers On YouTube Channel
Let's start the major point which everyone want to know before doing any bogus thing. You need a great social exchange network profile, where you can exchange your social activities with others users over the globe.
Example:
I will like someone Facebook image and that person subscribe my YouTube Channel in return. Did you get my point, as much as you like, share, comment on others social profiles, they subscribe your channel in return.
My Experience:
According to my observation, you can get 100 of subscribers a day easily with the work of 1 hour. Which is really easy to archived, here is the proof, I have created this YouTube channel few days ago and their is no subscribe yesterday and now I have 8 subscribe and 4 views on my video.
Now Join:
Let's Join Like4Like, to get some subscribe, yeah this is the major point which I want to share with you. You just have to follow some simple steps to earn subscribers.
Signup to this platform (Like4Like)
Earn some points from FB,G+,YT and Tweeter
Spend earned point on your YT subscriber
Now wait and count
Done
Assure you have done all the above steps, to get YouTube subscribers, you can get easily 100 of subs daily. There are many sites which offer similar services but I found this really effective, because today I have send 100 subs to someone.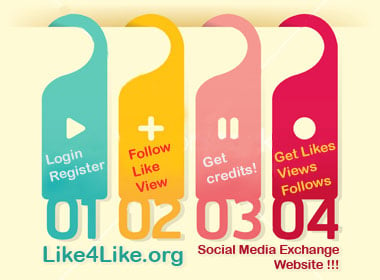 Bonus:
Did you know, you can sale these subs on other platform's.
fiverr.com
seoclerks.com
peopleperhour.com
Even that you can sale some other services too like other social signals, subs, comments and like etc.
This platform (Like4Like) will allow you to earn every popular social service, anyways I have finished my topic and now it's depend on you to join this platform to earn YouTube subscribers or for earning money in exchange to provide other these services. By the way don't for get my previous topic How To Get More Views On YouTube.